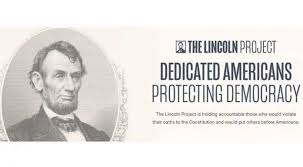 The Lincoln Project: National Town Hall—October 15 ZOOM MEETING
This is our opportunity to meet you, update you on our plans, answer your questions and introduce you to fellow Lincoln Project members who are working to defeat Trump and Trumpism in the November election.
OUR MISSION
Defeat President Trump and Trumpism
at the ballot box.
We do not undertake this task lightly nor from ideological preference. Our many policy differences with national Democrats remain. However, the priority for all patriotic Americans must be a shared fidelity to the Constitution and a commitment to defeat those candidates who have abandoned their constitutional oaths, regardless of party. Electing Democrats who support the Constitution over Republicans who do not is a worthy effort.
READ OUR INAUGURAL OP-ED IN THE NEW YORK TIMES