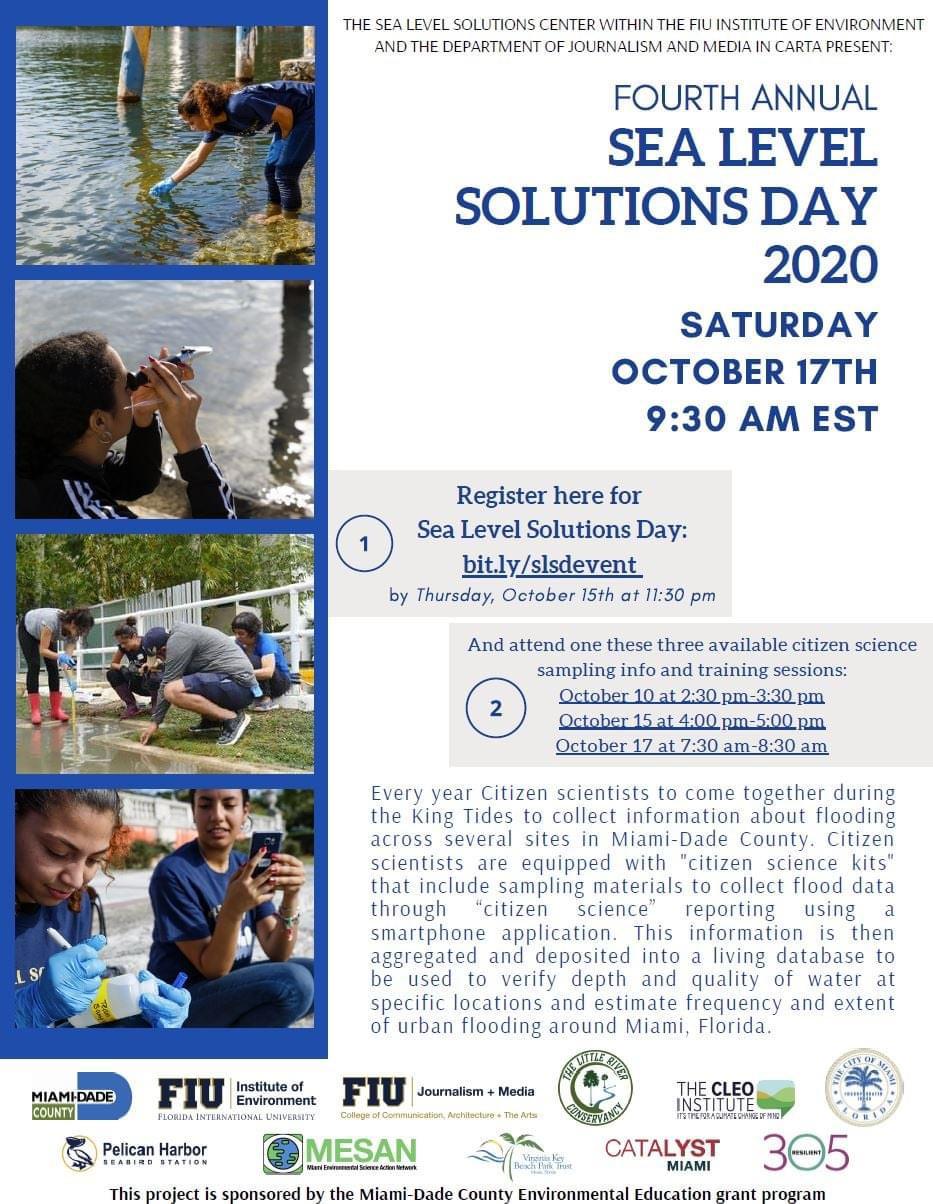 Sea Level Solutions Day @ FIU Institute of Environment: Sampling Day – Get your kits!
Sea Level Solutions Day is an annual event hosted by the Sea Level Solutions Center in FIU's Institute of Environment.
About this Event
Seasonal King Tides (highest of the high tides) happen each year and have been causing flooding in some areas around our Miami community due to increasing sea level. The Sea Level Solutions Center within the FIU Institute of Environment and the Department of Journalism and Media in CARTA collaborates with partners each year to host Sea Level Solutions Day. The event calls on citizen scientists to come together during the King Tides to collect information about flooding across several sites in Miami-Dade County. Citizen scientists are equipped with "citizen science kits" that include sampling materials to collect flood data through "citizen science" reporting using a smartphone application. This information is then aggregated and deposited into a living database to be used to verify depth and quality of water at specific locations and estimate frequency and extent of urban flooding around Miami, Florida
In order to maintain social distancing this year, our citizen science information and training session will be held as virtual events prior to sampling day on Saturday, October 17th. Please select one of these three available citizen science sampling info and training webinars, and register through the link below:
To register for the sampling event, please choose if you want to be a participant or leader and your preferred general sampling location.Please ensure if you choose to sign-up as a "Station Leader" that you also register and can attend one of the sampling info and training webinars (select one of the above dates) – you will be guiding your team through the sampling process. Registration deadline is Thursday, October 15th at 11:30 pm
Sampling kits should be picked up by each Station Leader at FIU Biscayne Bay Campus – 3000 NE 151st St, North Miami, FL 33181 (AC1-331). In your registration, please select one of the following dates and times to pick up your sampling kit:
Tuesday, October 13 from 8:00 am-10:00 am
Friday, October 16 from 3:00 pm-6:00 pm
Other — If you are not available on these dates, and would like to inquire about other ways to pick up your team's kit, please also contact Maria Pulido (mpulido@fiu.edu) if you select this option
In this year's Fourth Annual Sea Level Solutions Day, we are proud to partner with The City of Miami, Miami-Dade County, Little River Conservancy, Pelican Harbor Seabird Station, Historic Virginia Key Beach Park, The CLEO Institute, Catalyst Miami, Resilient 305, and Miami Environmental Science Action Network.