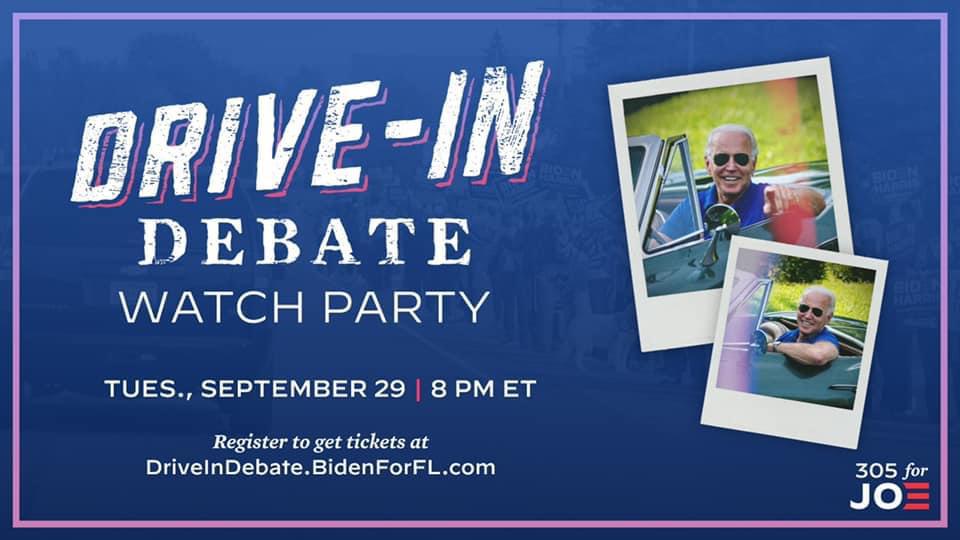 Register for the Drive-In Debate Watch Party
The Grassroots Group of volunteers that are part of the 305 for JOE movement are organizing a Drive-In Debate Watch Party on the evening of Tuesday, September 29th. The event will begin at 8 PM with the first debate between Joe Biden & Donald Trump airing at 9 PM.
TICKETS FOR THIS EVENT WILL BE AVAILABLE TO THE FIRST 60 PEOPLE WHO REGISTER ON THIS PAGE.
A MINIMUM CONTRIBUTION OF $50 WILL BE REQUIRED TO RESERVE YOUR TICKET WHICH WILL INCLUDE ADMISSION FOR ONE VEHICLE WITH AS MANY PASSENGERS AS YOU CAN SAFELY FIT IN THE VEHICLE.
Every ticket holder will receive a Debate Delegate Party Pack, including one limited edition Joe Biden & Kamala Harris sign, one VOTE blue mask, one Debate Delegate Button, one Ridin' with Biden Bumper Sticker and a special Biden Bell that we'll use to celebrate Biden's best debate moments!