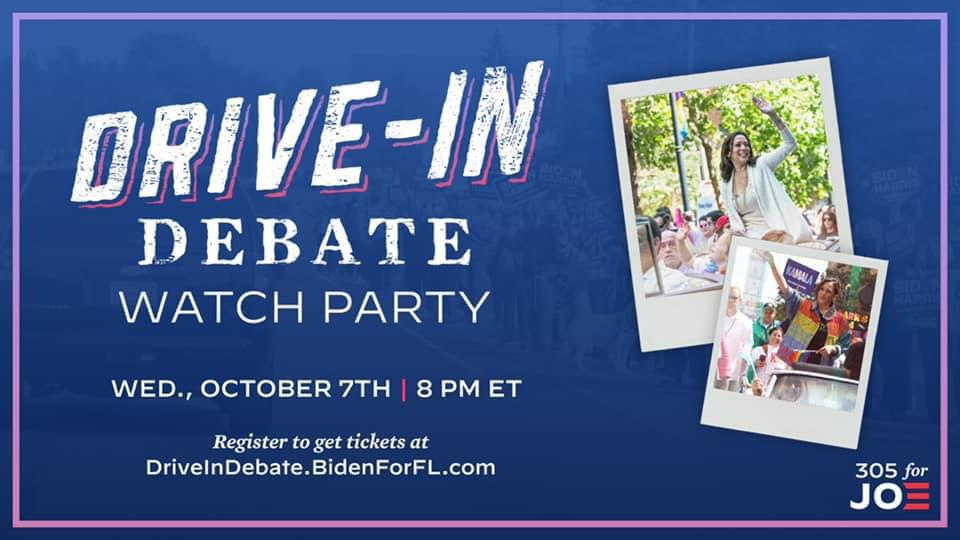 Drive-In Debate Watch Party – Register for Tickets & Join in to Cheer On @KamalaHarris
Join us to cheer on
at the VP Debate Drive-In Watch Party!
DATE: Wed., October 7
TIME: 8 PM LOCATION: Wynwood, FL Register to get tickets at: http://DriveinDebate.BidenForFL.com
The Grassroots Group of volunteers that are part of the 305 for JOE movement are organizing a Drive-In Debate Watch Party on the evening of Wednesday, October 7th. The event will begin at 8 PM with the debate between Kamala Harris and Mike Pence airing at 9 PM.
TICKETS FOR THIS EVENT WILL BE AVAILABLE TO THE FIRST 60 PEOPLE WHO REGISTER ON THIS PAGE.
A MINIMUM CONTRIBUTION OF $50 WILL BE REQUIRED TO RESERVE YOUR TICKET WHICH WILL INCLUDE ADMISSION FOR ONE VEHICLE WITH AS MANY PASSENGERS AS YOU CAN SAFELY FIT IN THE VEHICLE.