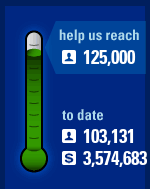 Donate now to win back the Senate!
Donate now to win back the Senate!
Republicans hold a 53-47 majority in the Senate. That means Democrats need to win at least three seats to take back the Senate—or four, if Trump somehow manages to win a second term.
The good news is that we're on offense this year, with Republicans defending a whopping 23 seats and Democrats just 12.
It still won't be easy. Flipping a Senate seat is never a simple task, and many seats are in deep red turf. But it's vital, because if Mitch McConnell remains in charge, he'll keep acting as "Grim Reaper" for everything Democrats want to pass.
That's why we've endorsed fantastic Democrats running against vulnerable Republican senators across the country.
We must flip the Senate! Please give $1 to help Democrats in each of these crucial races!