DALE! Ep.1: Jamie Smith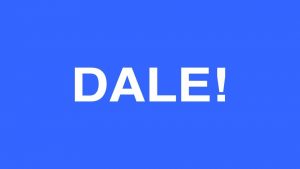 DALE! is the Miami-Dade Democrats' new weekly podcast hosted by DJ, producer and political activist John Henry Dale. With a focus on the arts, technology, politics and the environment DALE! will feature a wide variety of local, national and international thought and action leaders dedicated to making the world a better place.
For our first episode, we'll be featuring Senior Communications Specialist and Former Spokesperson for the President of the United States and Deputy White House Press Secretary, Jamie Smith
From the West Wing of the White House to the C-Suites of Fortune 500 companies, to foundations, multinational organizations, NGOs, agencies and startups, Jamie has served over twenty years in key senior strategic communications, marketing, policy, public affairs and government relations positions. She's worked to advance the way organizations, corporations, and governments communicate their messages, tell their best stories and lead – in times of opportunity and great challenge. Smith specializes in message development, strategic and crisis communications, executive positioning, and imagining and executing aggressive and creative integrated 360 degree marcom. Smith brings deep and abiding passion, tenacity and commitment to impactful change matched by impeccable relationships with senior media leaders and key decision-makers throughout the world.
Jamie has served as Special Assistant to and Spokeswoman for President Barack Obama and Deputy White House Press Secretary, Director of Public Affairs for the Office of the Director of National Intelligence (ODNI) and General (Ret.) James Clapper, Communications Director for the Senate Select Committee on Intelligence and the Senate Committee on Commerce, Science and Transportation under its then Chairman John D (Jay) Rockefeller IV, Spokeswoman and Traveling Press Director for Secretary Hillary Rodham Clinton's 2008 Presidential Campaign, Communications Director for former Secretary of State Madeleine K. Albright and The Albright Group, LLC, and Policy Aide to Congresswoman Nita M. Lowey (D-NY).
Post government service, Smith has advised well over 100 companies, CEOs and leaders as a senior strategist for West Exec consultancy, Executive Vice President at Edelman Worldwide, Chief Marketing Officer and Director of Diversity, Civility and Inclusion at the Linux Foundation, and Global Chief Communications Officer and Blockchain Advisor at the Bitfury Group startup & Co-Chair of the World Economic Forum's Blockchain Council. In her free time, Smith serves as a volunteer advisor to the Washington, DC Capitol Area Food Bank.
EVENT WILL BE VIEWABLE HERE: